What is It?
Welcome to my review of the Z50 II camera from...wait...uh, once again something strange is happening. Last time it was the ghost of Goto-san and the Zfc re-shelling of the Z50, this time it seems that someone from Sony stopped by and lopped off the electronic viewfinder of the Z50 to create a vlogging camera.
So, we've gone from Z50 to Zfc to now Z30. Basically, this is the same incredibly good little DX camera in three different guises:
you can have it like a traditional small DSLR — Z50
you can have it simulating a legacy camera — Zfc (the Zfc even looks like an old FM)
you can have it in minimal form optimized as for video loggers — Z30
Another way of putting it: if you take a Z50, add a few minor second generation things such USB Power Delivery, remove the viewfinder and flash, but add an articulating Rear LCD, you end up with the Nikon Z30. No, I'm not being sarcastic or sardonic. I don't have to be, because Nikon did what Nikon did. Any skepticism or mocking would be self-inflicted by engineers in Tokyo. 
We now have a trio of DX cameras that are all basically the same thing, but in three different packages.
So before we get to the camera itself, we have to discuss Nikon's unique position and why they might have done what they did. 
Not only was Nikon the last to arrive at the serious mirrorless game—they had a not-so-serious early attempt with the Nikon 1 in 2011—but they were even later to market in the crop-sensor portion of the market (Canon entered in 2015, Fujifilm 2012, Sony 2010, Olympus/Panasonic 2009). When the Z50 appeared in 2019 with its two DX lenses, Nikon was up against well established competitors, but more importantly, cameras with well-established lens sets. 
Nikon was initially looking for a replacement for the fast-declining sales of their D3500 and D5600 cameras, and it was no secret that the Z50 and the two kit lenses that accompanied it really targeted those customers (though at a higher price). Frankly, I like the Z50 better than a D3500, though the Z50 does cost more.
However, one camera is not a lineup. For some reason Nikon hasn't yet done what they did with DSLRs—basically the D3xxx, D5xxx, D7xxx sequence that produced three levels of consumer DX cameras using different ingredients—but instead has taken the same basic ingredients and made three versions that appeal to different audiences. 
If you asked Nikon who those audiences were, Nikon would probably say "DSLR users (Z50), trendy creators (Zfc), and vloggers (Z30)." Of course, that's not turned out to be exactly how they've decided to market them. The current marketing tag lines are:
Z30 — Creator ready.
Z50 — Insanely small. Amazingly bold.
Zfc — Iconic design. Z performance.
Or in shorthand: creators (Z30), pocket DSLR (Z50), nostalgia (Zfc). 
I'm just going to say this: this is mostly just nonsense product line trolling for prospective buyers. We could have just had a Z30 and Z50 II and I'd argue that most folk would be perfectly happy.
In one of their usual poorly supported and badly articulated attempts at establishing statistical significance, Japan's BCN research group recently published an article about how the vlogging camera market has grown in Japan. Uh, sure, that tends to happen when you count only two cameras initially (ZV-1 and G100) and then compare that to a market of four cameras (adding the ZV-E10 and Z30). Strangely, BCN claims there are only four cameras available for vloggers, and these account for 7.4% of the total camera market. Nonsense. 
Foreshadowing: I own two Z30's and a Zfc. Why? Because I needed at least one of each to review, and along the way I discovered that the newer models are now my preferred three-camera video setup in my studio for presentations. Why? Because they're small, easy to set up, and highly capable. If I had my druthers or was willing to spend more money, my setup would simply be three Z30. 
The Z50 was initially a stab at trying to re-establish some of Nikon's crop sensor DSLR dominance. Again, in a market where other makers already have mature systems. Thus, it was a bit of a stab with a rubber knife. 
Z50 sales weren't terrible, though, and the camera itself is quite good. Still, the Z50 just doesn't make it up the sales charts the way the D3500 and D5600 once did. With the Z30, Nikon is giving themselves another market to sell to with basically the same camera, which increases their overall unit sales with the same basic internal components and washes out their R&D costs over more units. 
But enough foreplay, let's get to the action.
As I noted in my review, the Zfc is really a Z50 II. The Z30 is really that same Z50 II as the Zfc, but in a Z50 body without a viewfinder. So it's best to describe the new camera starting with the things it shares with the Z50. 
First up is a variant of the 20mp sensor that Nikon has been using for its top DX cameras since 2016. This is a proven image sensor technology—the D7500 and D500 use earlier versions of it—now with BSI (backside illumination) and some say with a new fab making it (Tower Semi instead of Toshiba/Sony, though I haven't been able to confirm that). 
This 20mp image sensor does not have an anti-aliasing filter on top, thus it can produce moire, but it also produces highly detailed results with state-of-the-art APS-C noise production. ISO ranges in third stops from 100 to 51200, with HI1 and HI2 also available (no LO is available). Full frame 4K video is also an attribute of this sensor, as is 120 fps HD video (I'll get to the video capabilities a bit more later in this section).
The image sensor on the Z30 is not stabilized (ditto the Z50 and Zfc). The three existing Z DX lenses all have VR built-in, though. 
The image sensor has Nikon's every-twelfth row phase detect system built in, and the camera has an EXPEED6 processor to deal with the data. The firmware for that in the Z30 has been tweaked to provide better-than-Z50 autofocus capability (both in speed and in AF-area choices, which now include Wide-area L-people and L-animals). Both video rolling shutter and still electronic shutter speed are what I'd call good, particularly for the price. Not up to the stacked sensor capabilities of the top full frame cameras, but certainly about as good as you'll find in APS-C cameras up to the US$1000 price point. In other words, the electronics in the Z30 are basically state-of-the-art.
The mechanicals, however, start to show where some of the cost cutting comes from to keep this model in the low-to-mid-range pricing. The physical shutter tops out at 1/4000 and a flash sync speed of 1/200, for example. 
Strangely you can't set shutter speeds up to 900 seconds in Manual exposure mode like the Zfc on which the Z30 is based; apparently Nikon doesn't think creatives work that slowly ;~). 
While the body is of a magnesium alloy frame construction, it's not particularly weather sealed, relying on parts overlap more so than gaskets to keep water outside. The bottom plate of the camera and the battery compartment door are plastic, not metal. No hot shoe cover comes with the camera.
Two mechanical aspects stand out, though: the fully articulating Rear LCD is an upgrade from the Z50's flimsier tilting mechanism, and Nikon worked with Smallrig to create an add-on custom cage and dead mouse package for reducing wind noise on the built-in microphones (located in the top plate).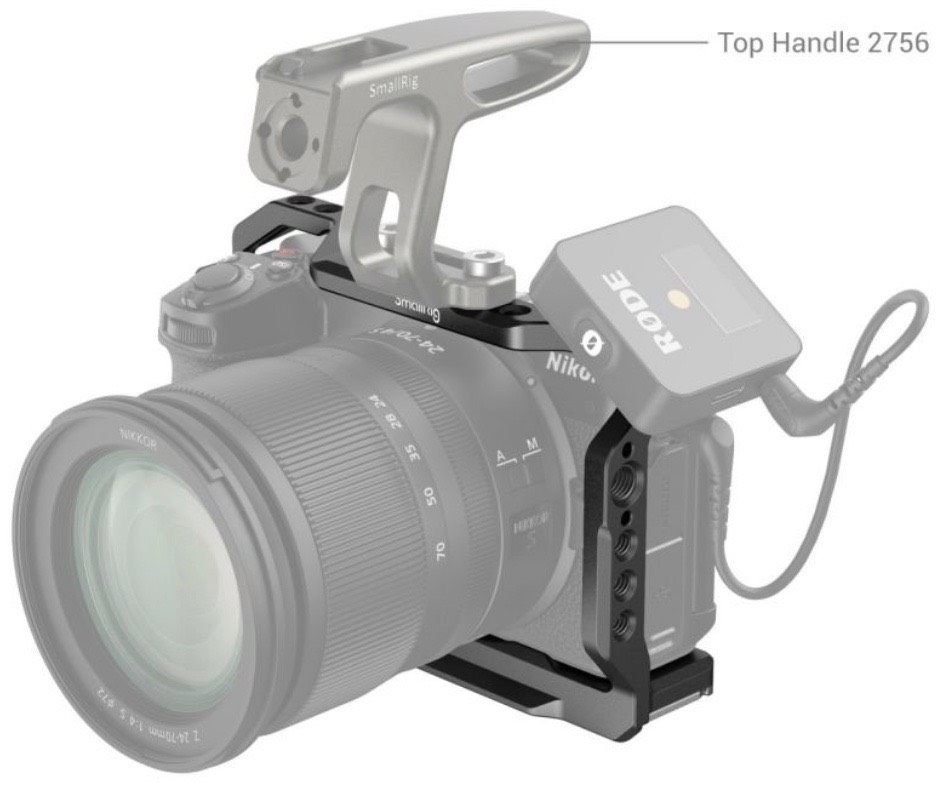 There's also a Creator's Kit buying choice that includes a Smallrig Tripod Grip, a RODE VideoMicro microphone, and Nikon's own ML-L7 Bluetooth-powered wireless remote. 
A word of advice: if you're really buying the Z30 for vlogging, you're going to want one or both of those Smallrig-based options. They make it far more convenient to use the Z30 for portable FullHD or 4K video production. 
The metal frame of the Z30 has a faux leatherette applied to most of it, and like the Z50 comes in only an all-black orientation. Apparently creatives don't like pandas, either. (A "panda" is the silver top, black bottom design of traditional cameras.)
Which brings us to the elephant in the room: the lack of a viewfinder. There is none. Nada. The Z30 goes EVF-less. Thus, all composing needs to be done much like a smartphone: camera held in front of you and concentrating on that big 3" Rear LCD, whichever way you've pointed it.
Up top the Z30 has a free-wheeling Mode dial, an exposed Rear Command dial, three buttons (one, a large red video recording button), stereo microphones astride a hot shoe, and a small speaker opening. In case you're never learned which side is which, the microphone areas are labeled L and R. The Z30 has both Front and Rear Command dials, which allows the long-traditional Nikon button-plus-dial control of the camera. 
Nikon's taken a few small liberties it doesn't discuss concerning image quality that you should know about. When you take JPEG images, you only get what Nikon calls Size Priority. When you take raw images (NEF), you only get Lossless Compressed. Yes, you still have Fine, Normal, and Basic JPEG compressions, but particularly with Basic you need to be careful at higher ISO values: in Nikon's determination to make that image under 3MBs in size, the compression can get heftier than you're used to. Yes, you still have the ability to select 12-bit or 14-bit NEFs, but some features of the camera will force 12-bit (e.g. Continuous H (extended)). 
As with the Z50 and Zfc, the PHOTO SHOOTING menu is a sprawling and disorganized mess, because Nikon just keeps adding options and not grouping them. For instance, controlling vibration reduction (if the lens mounted has it) is the 27th option on the menu. Tip: get used to the touch ability on the Rear LCD; enabling/disabling VR is three flicks and two taps away. 
The Rear LCD is the typical 3" 1.04m dot TFT display you'd find in this class of camera. Nikon implements a full touch capability into the display, which also functions in the forward-facing Selfie mode (unlike some competitors, who seem to not want selfie-shooters to set or control anything). Speaking of selfies, the Z30 does have a setting (called Self-portrait mode) that you can turn on and off to make it so you don't accidentally press buttons while holding the camera pointed at you. When used, this disables all controls other than the shutter release and touchscreen. 
You're probably wondering about the focus system. Nikon has made some modest improvements over the Z50. Regular range is now -3EV to 19EV (as opposed to -2EV to 19EV on the Z50). And low-light mode goes down to -4.5EV (measured with an f/1.8 lens at base ISO). We still have the same 209 selectable points, but more automated area modes. As I mentioned earlier, we get the same split out of automatic people and animal modes as we saw on the Z6 II/Z7 II, plus you have L-people and L-animal modes in Wide-area AF, too. Subject tracking uses the updated system that first appeared with the Z6 and Z7 2.0 firmware, as yes, it can be assigned to a control.
Nikon can't seem to make up their minds on buttons. The Z50 had two Fn buttons, the Zfc one, and now the Z30 gets…two again. But we don't get to program the ISO button like on the Z50. Meanwhile the red video record button gets more customization options than on a Z50. Who's on first, what's on second? Three cameras built on the same foundation have three very different customization personalities, and I wouldn't say those personalities exactly match the different marketing targets for the three models.
Meanwhile, the Z30 does have one menu feature the Z50 doesn't: Focus shift shooting. I fail to see how that matches up with the selfie/vlogger need in any way. Apparently the additions/removals from the Z50 on the Zfc and Z30 were random.
I said I'd write a bit more about video. 4K comes as 16:9 UHD (3840x2180) and is available at 24, 25, or 30 fps with a 110Mbps bitrate. HD can be set from 24 fps to 120 fps (including both PAL and NTSC speeds), plus there are three additional "record HD as slow motion" speeds, as well, though they have a 3 minute recording limit. (These three special modes can be thought of as record 120P play as 30P, record as 100P play as 25P, and record as 120P play as 24P.) 
Note that card size will come into play with 4K recordings. A 32GB SD card can hold about 28 minutes of 4K video, but the camera has no time limit on video recording other than battery charge. Technically, you can record long 4K videos on the Z30, but to do so you need a very large capacity card that is rated at UHS Speed Class 3 or better. 
Video is recorded internally as 4:2:0 8-bit, and there is no log form available (though Nikon does supply its usual Flat Picture Control, which does something similar).
The Z30 has two large stereo microphone arrays on the top of the camera on either side of the hot shoe, and it has the ability to use external microphones, as well. No headphone monitoring is included (though the display can show audio levels while recording). For some reason, Nikon has decided to charge US$10 for a "dead mouse" wind reduction muff that slots into the hot shoe (Sony supplies theirs for free).
I've verified that both the Atomos Ninja V and the Blackmagic Design Video Assist recognize and record video properly from the mini HDMI connector on the camera, so you have some ability to do better than 4:2:0 8-bit, but at the cost of external complexity/size. 
SnapBridge is built-into the Z30, along with the requisite 802.11ac Wi-Fi and Bluetooth 4.2. This provides both the ability to move images off the camera to your mobile device, but to control the Z30 remotely, as well. You can also control a Z30 from the Nikon ML-L7 (optional) remote control. 
Power for the Z30 is again provided by the EN-EL25 battery, which is rated to 330 shots CIPA. The camera supports USB Power Delivery and can operate while remotely powered. A standalone MH-32 AC charger is not supplied with the camera, so Nikon apparently thinks it's okay to ship batteries that the user can't charge without some additional accessory (they do supply a USB cable, but no power adapter for USB charging). 
As for lenses, only three Z DX lenses are currently available: the 16-50mm f/3.5-6.3 VR DX, the 50-250mm f/4.5-6.3 VR DX, and the 18-140mm f/4.5-6.3 VR DX. These provide you the full frame equivalent of a 24-375mm focal range. A 12-28mm DX Power Zoom is on the lens Road Map; let's hope it has VR, as that's going to be what all those creators want for their vlogging.
The Z30 is available as body only (US$709), body plus 16-50mm 3.5-6.3 VR DX lens (US$849), or the body and kit lens with the Creator's kit extras (US$1085). 
The Z30 is made in Thailand (as is the kit lens).
Source of the reviewed product: Purchased from B&H.
How's it Handle?
When the Z30 was announced, I and many others groaned. Really? Did we need a version of the Z50 without an EVF?
In hand, my impression is a little different. Nikon's mostly made good choices.
Personally, I like the articulating Rear LCD on the Z30; I slightly prefer it over the tilting one on the Z50. The two things that the articulating display on the Z30 provides over the Z50's tilting one: (1) a better selfie/vlogger position (except if you're using an external microphone, and/or are hooked to an external HDMI monitor, whose cables will partially block your view); and (2) the ability to reverse the LCD during travel to protect it (which I like, since I travel rough; see above photo). 
The one capability that the Z50's tilting LCD provides over the Z30's articulating one is that you don't have to extend the LCD alongside the camera to get a tilt for low- or high-angle imagery. I'm in the camp that prefers the articulation benefits over the in-place tilting benefit, though. Also, I'm tired of accidentally hitting the "touch buttons" on the Z50's tilting panel when adjusting the angle.
One slight problem, though: fully flipped around, the Z30's Rear LCD isn't exactly parallel to the image sensor. If it's supposed to rotate to 180°, I'd say it only gets to, oh, say, 172°. This annoys me more than having any practical impact. When I'm vlogging with the camera held in front of me, the LCD is slightly angled away from me. If anything, I'd want it to slightly angle towards me, since I'm aligning my face with the lens that's several inches to the left or where the LCD will be.
As before, Nikon's touch capability on the Rear LCD is excellent, and this is one thing that makes that selfie/vlogger position of the articulating display much more useful: it's far easier to set the Z30 from the front than it is the Z50. But again, that slight angle away from me is annoying for that, too. 
It does seem that Nikon caught onto the fact that many Z50 Mode dials were a little to easy to dislodge. On my Z30 it takes real force to change the Mode dial, much more than on my Z50; I've found it far less likely to accidentally set something on the Z30. 
Another thing I should comment on is using the Z30 as a walk-around stills camera. If you're comfortable with using the Rear LCD to compose with the camera in front of you, I find the Z30 is one of the more comfortable such "compact" cameras I've encountered for that. The Rear LCD may need a Monitor brightness boost (to +5) to see in bright light, and that has an impact on battery life, but the big solid hand grip and decently located controls make the Z30 work as an arms-out small camera. The lack of a big EVF hump makes the camera more jacket pocketable, too. 
As a pocket stills camera, the Z30 reminded me a lot of the Coolpix P7700, which was a highly competent performer back in 2012. 
As with the Zfc and Z9, Nikon has finally given up on the pretension that they make movie cameras. The word "movie" has been replaced with "video" everywhere in the Z30's menus, something I've been advocating Nikon do for some time now. (Is Nikon listening to me? No. They're just slower to come to realizations. ;~)
How's it Perform?
Battery life: Probably the worst performance characteristic of the Z30, much like the Z50. I'm usually getting slightly better than the 330 shot CIPA number that Nikon publishes, but only when I'm using the camera for an intensive still work session. If you're of the "take one image, put the camera away, take it back out and take one image again, repeat ad infinitum" persuasion, you'll get less than 300 images per charge, I'm sure. If you leave the camera on for long periods between those single images, double that warning. 
More important is the 75 minutes of maximum video recording time per charge, since this is a vlogger's camera. Take that to also mean a bit more than an hour of constant on time per battery charge. That means that anyone out for a day of vlogging really needs to take a handful of EN-EL25 batteries with them (or an external power source). It also means that anyone leaving the camera on for over an hour while taking still images needs to carry extra batteries. Also, if you're using SnapBridge to control the camera, you may dip below an hour of continuous usage.
Buffer: Like the Z50, it seems the top speed of the card slot is somewhere below 95MBps. Nikon says the buffer is 36 frames minimum for raw and 82 frames minimum for JPEG fine Large. I'm actually netting a few frames less than that with the SanDisk Extreme 80MBps card I'm using at the moment, but I'm not finding that to be an issue. For the targeted audience, the buffer is perfectly adequate. 
Autofocus: the obvious performance change from the Z50 is that the Z30 uses the Zfc autofocus system. So I'll just give a quick "yes" to all the things you might have heard compared to the Z50. Yes...
the Z30 focuses a little bit faster and better in low light and low contrast.
the Z30 is somewhat snappier to focus on moving targets, particularly in the people/animal modes; this also translates into better tracking focus for video use, too.
the Z30 is a little more consistent and accurate with eye focus, and from longer distances.
Note the qualifiers (little, bit, somewhat). It was actually difficult to come up with a repeatable session where I could try to verify these statements, but ultimately I did. To me, the slightly bigger improvement is that the Z30 autofocus sensor position in the automatic modes updates slightly faster, though it is also sometimes a bit more jumpy than the Z50. This is most noticeable with eye focus, where not only can the Z50 be a little slow to move from face to eye detection, but when you're panning or the subject is motion, there feels like there is some lag to the focus sensor position update. The Z30 just seems to find the eye faster and follow it better. This is true for video and well as stills.
Image Quality: Just like the Zfc, the Z30 performs the same as my Z50 in every meaningful way I can find. Which is to say: excellent. As APS-C cameras go, don't discount the 20mp sensor on the Z30: it performs right up there with the best 24mp ones, perhaps a little better in some minor aspects. It's video quality is excellent, too. I consider this as one of those "don't fix it if it isn't broken things," which is exactly what Nikon did. (If you need to see image quality, see my Z50 review). 
I'm going to simply repeat some work from the Zfc review for those who need something visual. Here's ISO 6400 (from left to right: no NR, low NR, high NR; not a lot of noise to correct, but note the slight color shifts and the detail in the "hair"):
Some of you probably want something from the Z30 itself, so here's the second image I took with it.
The Z30 is an EXPEED camera, so as you might expect, you get Nikon's generally quite good color if you know what you're setting. And note how close I am—this is the full capture—using the 16-50mm kit lens. It's probably a good thing that lens focuses close (8") if you're going to use it for vlogging and selfies ;~).
Final Words
The conundrum, of course, is do you buy a Z30, Z50, or a Zfc? Nikon didn't make this an easy choice by disguising a mild update in two new body forms. 
But I personally think the choice is pretty clear: 
Buy a Z50 if you're mostly interested in a casual stills camera

Buy a Z30 if you're mostly interested in a casual video camera
Yes, I know some of you will buy a Zfc instead because—dials!—it reminds you of something, but the Zfc body is a little bigger and clunkier, and I just think its handling idiosyncrasies will just eventually wear you out. 
I mentioned it earlier, but the three-camera setup in my studio for recording video presentations is mostly Z30's (it would be all Z30's but I didn't want to trade in a Zfc for a Z30 and lose money for basically the same result). They're small, I can put them anywhere, I can have their LCDs (mostly) facing me so I know what they're picking up, and they're highly competent for basic video work up to 4K/30P. Three Z30's and an Atomos AtomX CAST on the back of your Ninja V and you have a remarkably portable multicam setup that can stream live. The Z30's autofocus is good enough that the two cameras you're not sitting at can be trusted to follow people well. 
The one-camera vlogger will like everything about the Z30 except for the wide angle lens choices. As in none. (I've solved that temporarily by using a Megadap Sony-to-Nikon ETZ21 adapter.) In most ways, I like the Z30 better as a vlogger camera than I do Sony's multiple attempts. Yes, the ZV-E10 has a bunch more video options, but that mostly makes the camera more complex. For simple, basic vlog-style work, I like the Z30 better.
As I noted in the main section of the review, the Z30 can be a competent hands-out still camera. It takes images just as good as my usual daily driver (Z50), and it's a little more compact and pocketable (the flip part of the Rear LCD means I can just jam it into my jacket pocket without worrying that I'll scratch the LCD). I just wish we had a couple of true pancake primes for it (as opposed to the 28mm and 40mm muffins Nikon has produced). 
So, if the DX lenses you need are available:
Vlogging: Highly Recommended (2022 to present)
Stills: Recommended (2022 to present)
Support this site by purchasing from the following advertiser: