Nikon introduced a Z-GR1 extension grip/plate and Z-VP1 bracket for the Z FX cameras (adds Arca-Swiss compatible plates):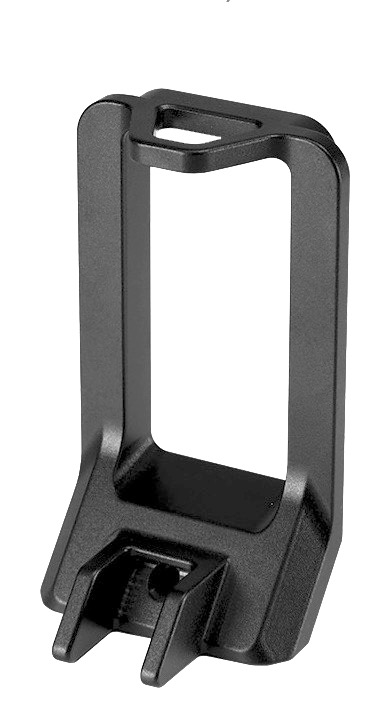 Unfortunately, the Nikon bracket is only available in Japan at the moment. So you're left looking for a different bracket in the rest of the world.
The following other brackets and plates are available:
Fugasun L plate
Gabale QR
Arca-style L-plate for camera
Honglai
PZ-178 Arca-style camera plate
BL-Z Arca-style L-plate for camera
PZ-130 Arca-style plate for FTZ adapter
BL-FTZV2 Arca-style L-bracket for the FTZ adapter
LIM
NK-Z71BK Leather half-case with Arca plate
Markins
PN-Z7 Arca-style camera plate
LN-Z7 Arca-style add-on L side plate for PN-Z7
Meike 
MK-Z7G Slim Arca-style plate with grip extension — This grip/plate seems to have been redesigned a bit over time. It features an extension of the hand grip coupled with a full Arca-Style plate for the remainder of the camera bottom. The battery is accessed by moving the battery door from the camera to the bottom of the added grip

PLMNBN11 Intelligent L bracket (

for Z II's with MB-N11 grip)

PLMNBMN72 L bracket for Z II's
BZ7 Arca-style base plate
BZ7-L Arca-style L-plate for camera
Smallrig
APL2258 Arca-style L-plate (optional cable clamps)

(What I'm using)
STC
Fogrip Unique folding grip extension with Arca-style L plate across camera bottom
Sunwayfoto
Three Legged Thing
Zelda Arca-style L-plate (available in copper or grey
The Arca-style foot Thom uses for his FTZ adapter is the Stabil FTZF.

Some of the above links are to Amazon. As an Amazon Associate I earn from qualifying purchases.