Nikon announced both macro lenses on their Road Map last week while I was still off the net: the 105mm f/2.8 VR S, and the 50mm f/2.8. Both go to 1:1 (life-size). This brings the available Nikkor lenses for the Z-mount to 18.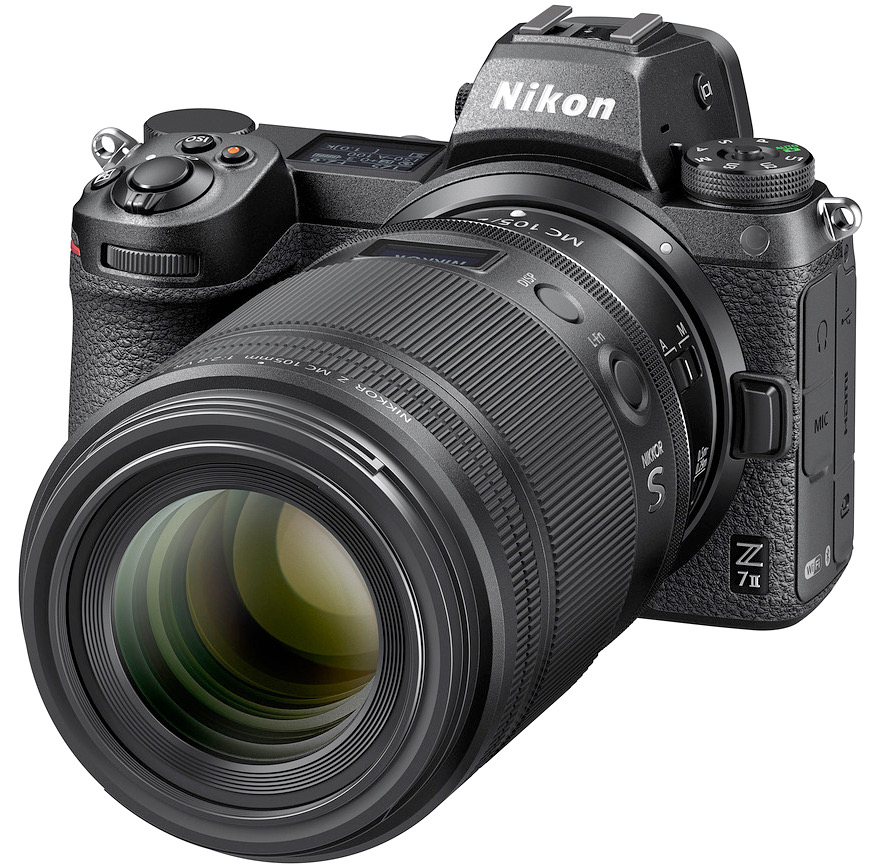 The 105mm is the more interesting of the two, but it's a larger lens than some expected, being almost as big as the 50mm f/1.2 S (it's just a tiny bit shorter). However, the 105mm f/2.8 S is also a top-end lens. Beyond the S designation, we also get an L-Fn button, an A/M switch, focus limiter switch, lens-based VR (4.5 stops CIPA), an extra control ring, and an illuminated LED display for focus information. Filter size is 62mm. Nano and Arneo coatings are used within the lens, and it is weather sealed in design with fluorine coating on the front element.
The 50mm is a stubby, short lens (what I call a large muffin size—my sizing jargon goes pancake, muffin, full-size). The 50mm lens has an A/M switch, but no other controls other than the wide focus ring. An internal barrel extends as you focus close (external focus), but that sleeve uses small 46mm filters. A slightly larger screw ring is outside the sleeve and is where the lens hood screws in. 
A couple of curious design changes are in these new lenses. First, the word "Nikkor" now appears above the lens designation on the neck of the lens. Why that wasn't true before is unknown. But that neck is also shorter than before and no longer contains the third control wheel. A number of us complained about the position of some control wheels as being too close to the body. The new design moves it forward by about a ring's worth. Also the S logo is different on this lens. These things seem to indicate that Nikon marketing is slowly catching up with engineering on minor design bits.
I'm sure there are both groans and cheers happening with the release of these two lenses. The cheers are that Nikon finally has macro lenses in their Z lineup, and in particular, lenses that will play nicely with the built-in focus stacking option in most of the cameras. We're also all anticipating that the 105mm will be a high optical performer given its S designation, published MTF charts, and early test shots. Cheer. Moreover, it should suffice well both as a macro and as a more general telephoto. Cheer. There really hasn't been a dud S lens yet (heck, not even a yawner; all have been special in some way with their optics). The new lens is also 16% lighter than the F-mount 105mm (though it's slightly bigger when considering the FTZ). Cheer. Price for the 105mm is US$999. Cheer.
The 50mm f/2.8 adds another potential cheer: it seems like a good candidate for portraiture on the Z50 (75mm effective). 
The groans will be centered on several complaints. The published MTFs on the 50mm aren't so impressive (of course, those are typically done at infinity focus, so many not be indicative of its close performance). Price seems a bit high at US$649. Groan. Moreover, the two focal length choices for these macro lenses are mostly a carry-over from, well, forever. Nikon still seems to think that the copy-stand macro (50-60mm) is a strong user need. Somehow they've sold that notion to generations of photographers, who now believe the same thing. The F-mount 60mm macro was a best seller for Nikon, but ask yourself this: when was the last time you saw someone using one? When was the last time you did 1:1 macro at ~50mm? Meanwhile, the Nikon 200mm option has been languishing in "never updated" form, complete with a screw-drive focus motor that isn't compatible with the mirrorless era. Groan.
No, we need another paragraph on that ;~). For a long time now, Nikon seems to believe that "macro" means only 55 and 105mm (give or take a few mms), and only 1:1. This is legacy-think at its worst. Other competitors are doing things even at 100mm now that Nikon isn't (e.g. DC-type spherical aberration control and 1.4:1 on the Canon 100mm). In terms of macro, Nikon's designs are still too strongly rooted in the past without exploring what it is now possible. I'm not sure why I shouldn't just continue to use the F-mount 105mm Nikkor. (Okay, I'll answer that question: the new lens doesn't need an adapter and has better optics and focus performance. Still, thare's not a lot to completely swap out lenses for.) 
Yes, I'm still quasi-ranting: The problem for Nikon with "mostly just replicating F-mount" products is that this does nothing for improving the customer perception. And Nikon seems somewhat constricted by which F-mount products they replace or add to. For instance, the venerable 70-180mm Nikkor macro lens was short-lived, and many of us miss it (another screw-drive lens that's incompatible with mirrorless). Sony has now stolen the "innovative" throne from Nikon, at least according to all the dogs on the Internet. Even Canon is poking at new things faster than Nikon appears to be. As long as Nikon continues to "mostly do backfill"—which is what the two new macro lenses basically are—the market will continue to whisper "Nikon is just lost in their past and too slow to respond." Now, I don't particularly believe that, but this is one reason why I constantly harp on Nikon's bad messaging and marketing. Excellent products don't necessarily change the customer perceptions. Certainly not in the short term before reviews can ascertain just how much better they might be. 
The 105mm has a number of other potential groan points. The use of an LED for focus information is going to be another issue for some, as if you're really going to use it, it is a power sucker, causing shorter camera battery life (ditto for lens-based VR). Groan. (On the flip side, if you're interested, the LED can show you the current magnification ratio. Anyone really want to know that?) The 105mm doesn't take teleconverters. Groan.
Meanwhile, Nikon continues to pile up filter sizes: 46, 52, 62, 67, 72, 77, 82, and 112. That's 8 sizes for 18 lenses; we're almost on the ever-other-lens-produces-a-new-filter-size path. Groan. Fortunately, there aren't many other common sizes they can use, so maybe we're done with new filter sizes. 
But the biggest groan of all will be this: if you didn't get your order in on day one, you're going to be waiting awhile before you get a 105mm or 50mm Z System macro lens. Dealers are already telling me that demand is really high for these lenses, and that they expect to have back-order lists for the foreseeable future.